Practice, or regular singings are small groups that meet for a few hours and are fairly informal.  All-day singings in our region typically attract 60-100 people and last from around 10 am to 3 pm, with a break for potluck "dinner on the grounds." The Keystone Sacred Harp Convention, hosted in Philadelphia in 2015, 2016, and 2018, is a two-day event that may be attended by 200+ people from all over the country and abroad.
All are welcome to sing with us. No experience is necessary and singing books are provided.
There are currently eleven regular singings every month within two hours driving distance of Philadelphia.  In addition, our area hosts seven all-day singings every year. See Pennsylvania Sacred Harp, Berks County Sacred Harp, and Princeton Sacred Harp for details.  For events throughout the United States and abroad, see Fasola.org.
Regular Local Singings
Fourth Thursdays at 7:30-9:30 each month at A-Space in West Philadelphia, 4722 Baltimore Ave.  Contact Elizabeth Pilar at 610-639-1326 or elizabethastokes@gmail.com.
Second Sundays at 5:00-8:30 each month in the parish hall of St. Mary's at Penn, 3916 Locust Walk on the campus of the University of Pennsylvania. We will break for a potluck supper around 6:30 and resume singing around 7:30. Please bring a potluck dish if you are able. Enter through the cloister door and ring the buzzer on the Philly Shape Note sign (map below). Contact Rachel Hall at 215-605-1621 or phillysacredharp@gmail.com.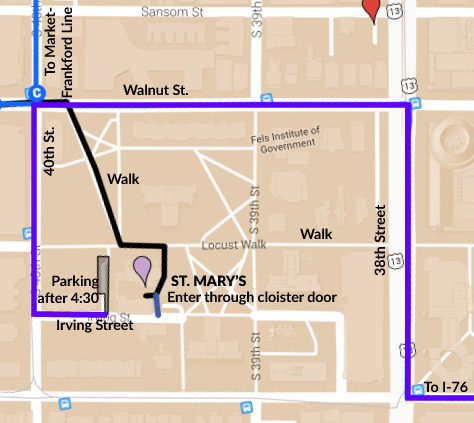 Second Fridays of each month from 7:30-9:30 PM at St. James United Church of Christ, 135 Myrtle Ave, Havertown, PA 19083. Contact Marian McKenzie at 610 896-1565 or mmckenzi [at] haverford.edu.  The Havertown singing is near the city and accessible by public transportation.
Regional and All-Day Singing Calendar
(click on event title for details)